Are you interested in representing CaptiveAire and selling our products?
Please fill out the following form, and we will contact you soon.
Related Product
The most effective grease extractors in commercial kitchen ventilation.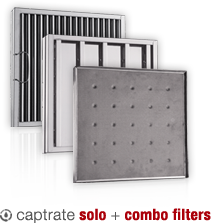 Click here to learn more about this superior product for grease filtration
»
CaptiveAire offers Kleen-Gard® Baffle Type Grease Filters to be used with Type I hoods. The self-draining filters are constructed of stainless steel. The standard baffle filters is designed for light duty grease applications.
Standard Features & Benefits
Construction - Stainless steel provides added durability and corrosion resistance
Grease Extraction - Promotes sanitation by removing grease from the air flowing through filters and draining it safely away
Listed - Listed and meets UL Standard 1046
Filter Collection Efficiency Comparison
The filters were tested to ASTM Standard F2519-05 by an independent third party. The purpose of the ASTM standard is to determine the grease particle collection efficiency of filters used in commrecial kitchens to capture grease effluent prior to entering the grease duct.