Are you interested in representing CaptiveAire and selling our products?
Please fill out the following form, and we will contact you soon.
Self Cleaning Spray Bar Pressure Drop
30 psi constant water pressure is required to guarantee proper operation of the Self Cleaning Hood. 50 psi is the maximum water pressure permitted on this system. Depending on the length of hood(s), the minimum allowable water pressure changes. The longer the hood(s), the higher the minimum water pressure. The graph below shows the pressure drop through self cleaning hood spray bars.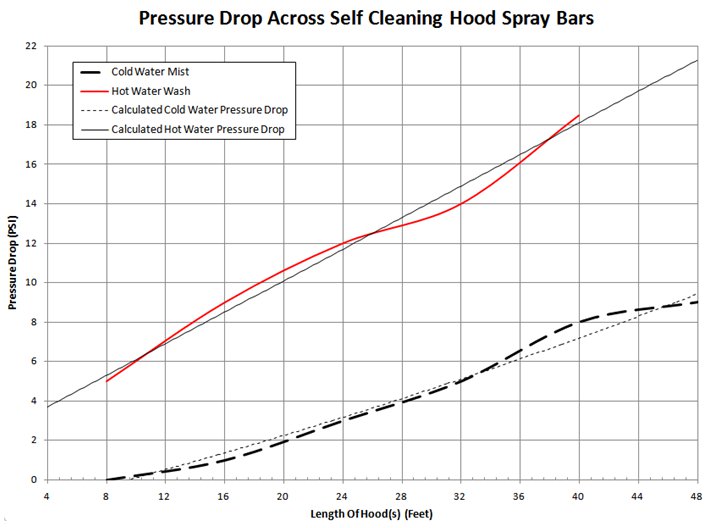 The table below shows the minimum inlet pressure required for various lengths of hood(s). This total length of hood(s) includes back-to-back and end-to-end hood configurations. The maximum total length of hood that can be covered by one manifold is 80 feet.
| Length of Hood (Ft) | Minimum Inlet Water Pressure for Cold Mist (PSI) | Minimum Inlet Water Pressure for Self Cleaning (PSI) |
| --- | --- | --- |
| 0 | 10 | 30 |
| 4 | 10 | 30 |
| 8 | 10 | 30 |
| 12 | 10 | 30 |
| 16 | 15 | 30 |
| 20 | 15 | 31 |
| 24 | 15 | 32 |
| 28 | 15 | 34 |
| 32 | 20 | 37 |
| 36 | 20 | 39 |
| 40 | 20 | 42 |
| 44 | 20 | 46 |
| 48 | 20 | 50 |